Wednesday, January 22, 2014
0 comments
With Lunar New Year just around the corner, shopping malls are already well prepared to welcome the Year of the Horse with CNY decorations and performances! Suria KLCC is a popular shopping destination that offers a strong mix of fashion, food and entertainment. The iconic

shopping centre embraces the year of the horse, with a selection of artistic horse paintings amongst pink cherry blossom trees and beautiful red lanterns throughout the mall and KLCC Esplanade. These paintings are inspired by the characters of the seventh animal in the Chinese zodiac such as strength, agility and energy.
To start off the event, the media and invited guests are treated with an eight drum performance. To continue their tradition of giving back to the society, Suria KLCC also invited 50 underprivileged children from House of Joy and Rumah Charis to a memorable Chinese New Year celebration in Suria KLCC.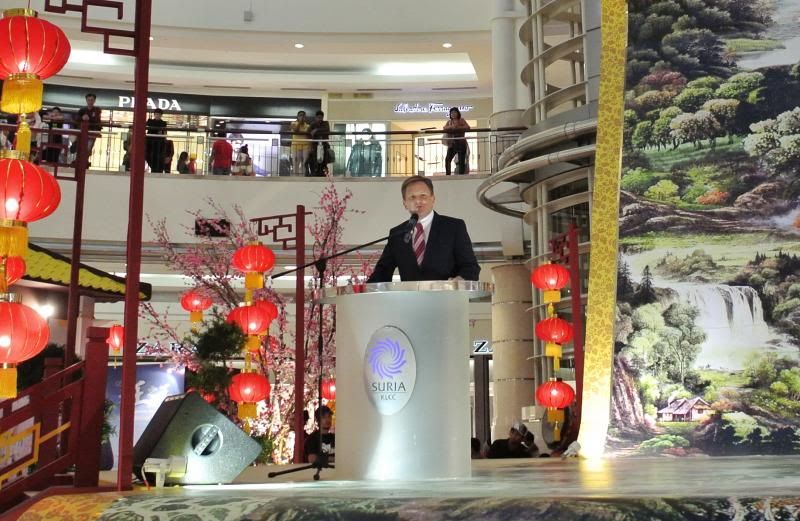 "We celebrate the less privileged every year especially during festive seasons. This is our way of giving back to the society especially to those in need. This year, we wanted to make it even more special for the hosted children as well as our customers by exhibiting the longest Chinese horse painting in Malaysia to welcome the lunar new year of the horse. As the horse is a symbol of strength, we hope that this will inspire the young ones to persevere and seek success in their lives," said Andrew Brien, Chief Executive Officer of Suria KLCC.
Of course to welcome the Lunar New Year, it is a must to have the Lion Dance performance! This acrobatic lion dance was skillfully done as they manage to do backflips which left the spectators in awe.
Children from House of Joy and Rumah Charis touching the lion for good luck!
Besides being one of the privileged ones to watch history in the making with the longest horse painting in Malaysia, the children from House of Joy and Rumah Charis were also treated to a shopping spree at Suria KLCC. They were each given RM150 worth of Ang Pau money to be spent on new clothes of their choice at Isetan departmental store. The ecstatic children were accompanied by Suria KLCC management team who helped them with their shopping.
Moving outdoor, we get to see renowned horse painting artist James Phua in action where he created the longest Chinese Horse painting in Malaysia which is recognized by The Malaysian Book of Records.
The horse painting was created on a canvas measuring 12 metres by 6 metres the Suria KLCC, exceeding the current world record by Australian artist, Yao Di Xiong who created the largest horse painting in 2002 on 10 feet by 20 feet canvas. The artist, James Phua completed the painting in less than an hour using freestyle techniques with a specially designed enlarged Chinese painting brush and approximately 60 liters of paint.
Renowned artist, James Phua with his completed painting.
It was truly an great moment to witness such an amazing painting being created by the talented artist. The dramatic music played in the background while James Phua was painting, created an exciting and suspenseful atmosphere as the crowd watched on. After the painting was finished, the crowd applauded with admiration at the magnificent painting. The artist also wrote "一个大马" on the painting which has double meaning. The first one means 1 Malaysia and the second one in literally means one big horse ;)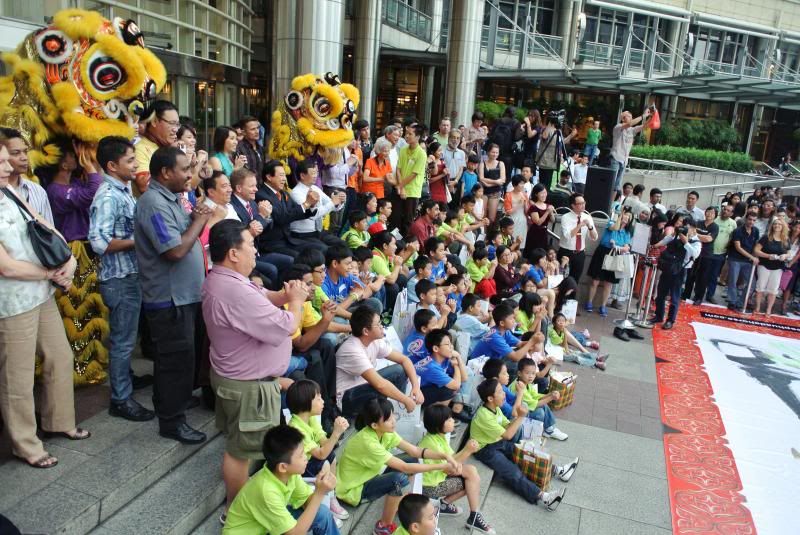 A group picture with children from House of Joy and Rumah Charis. Some members of the public also joined in the picture! Haha... After that, the children were ushered back to the Centre Court to be entertained with amazing acts by Shaolin Martial Arts Troupe from China who showcased remarkable martial arts skills.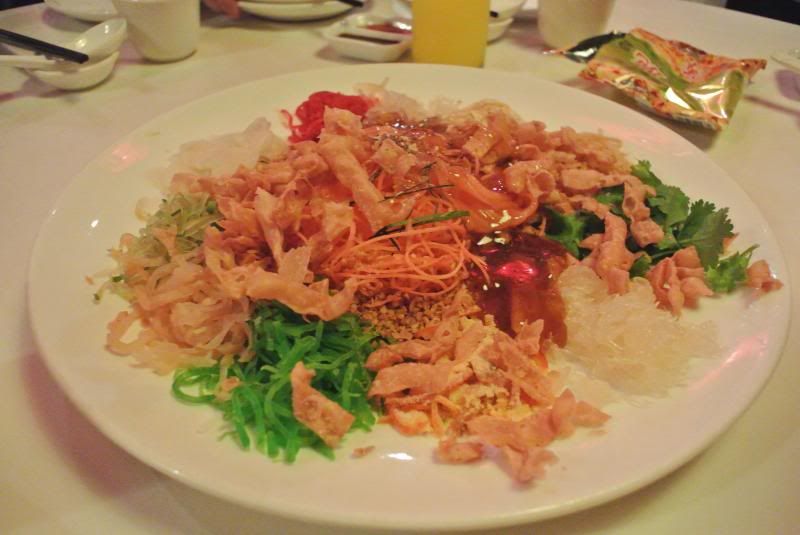 After all the excitement from the performances, the children, media and guests proceeded to Spring Garden restaurant at Level 4 for a dim sum dinner and the auspicious tossing of Yee Sang together with the Suria KLCC management team.
Until 2nd Feb 2014,

visitors can come and watch impressive traditional performances such as a variety of lion dance performances that include Cai Qing lion dance, Northern lion dance and High Pole lion dance. Visitors can also catch a unique Hands Percussion, Festive Drums, Spring Blossom Dance and Face Changing performances during this festive season. S

hoppers will also be able to receive Mandarin oranges from the Happy Faces characters who will be walking around the mall on selected days.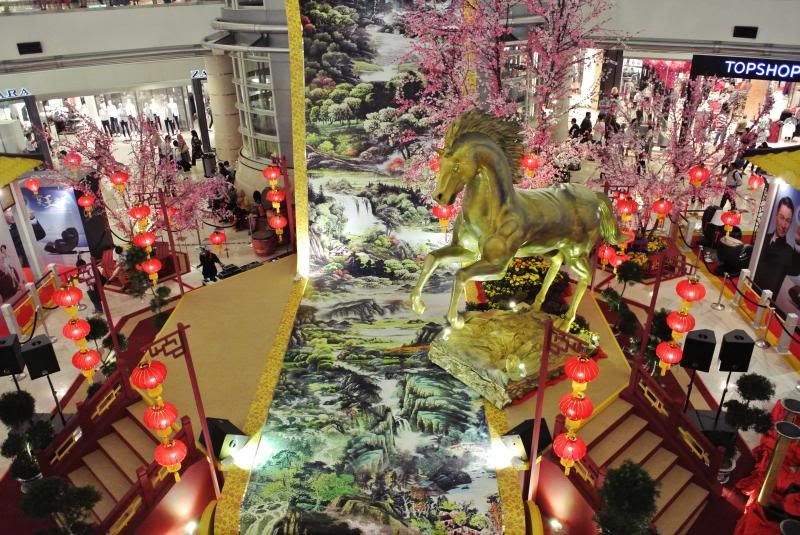 Shoppers who shop at selected outlets in Suria KLCC will also be able to get their hands on a set of two Chinese rice bowls with intricate floral design when they spend of only RM500 and above while weekend shoppers who spend RM3,000 and above will receive an exclusive Shizens beauty gift set. On top of that, the first 88 shoppers every day will receive exclusive Suria KLCC red packets.
TERIMA KASIH ATAS KUNJUNGAN SAUDARA
Judul:
Welcoming The Year Of The Horse @ Suria KLCC
Ditulis oleh
Aileen Raymond
Rating Blog
5
dari 5
Semoga artikel ini bermanfaat bagi saudara. Jika ingin mengutip, baik itu sebagian atau keseluruhan dari isi artikel ini harap menyertakan link dofollow ke http://sexiestcountry.blogspot.com/2014/01/welcoming-year-of-horse-suria-klcc.html. Terima kasih sudah singgah membaca artikel ini.